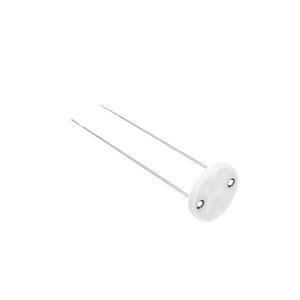 FadeSpace S-Tier Heating Element
Precio habitual €0.00 €90.00 Oferta
Product details:
S-Tier Heater for the Peak

Works with all Peak units, atomizers, and inserts.

Extremely rapid heating and greater reliability than basic ceramic heaters.

Superior thermal energy transfer.

Extreme thermal diffusivity significantly reduces the chance of thermal shock/breakage.

Rated for many thousands of cycles.

Designed in Massachusetts.

Manufactured in California.

This product does not include other items, such as silicone grommets, washers, or other small components needed for atomizer repairs - It strictly contains the S-Tier aluminum nitride heating element.


DISCLAIMER: *This is not an official Puffco product and is not endorsed by Puffco in any way*
This is an aftermarket product engineered by FadeSpace LLC to function in the Puffco Peak device based on average measurements of many different Peak units. By using this product, you acknowledge and agree that FadeSpace LLC is in no way liable or responsible for Puffco products or their respective warranties, nor is FadeSpace LLC responsible for Puffco product malfunctions and / or variance. Fadespace LLC is not responsible for failed or insufficient heating element installations that result in short circuits, broken lead wires, or other negative outcomes that are a result of user error or accident.