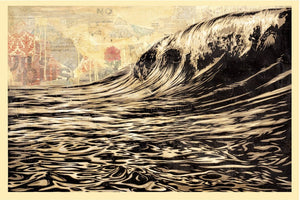 Shepard Fairey - Dark Wave Lithograph
Precio habitual €0.00 €400.00 Oferta
Product details:
Shepard Fairey is an American graphic artist and social activist who is part of the Street Art movement along with other artists including Banksy and Mr.Brainwash. Fairey blurs the boundary between traditional and commercial art through type and image, communicating his brand of social critique via prints, murals, stickers, and posters in public spaces. "Art is not always meant to be decorative or soothing, in fact, it can create uncomfortable conversations and stimulate uncomfortable emotions," he stated.
'I first illustrated the Dark Wave piece in 2010 as a response to the BP spill in the Gulf of Mexico. I made some fine art pieces of the image that I liked even more than the screen prints and decided I'd like to release an offset of the fine art version. I am releasing this both because I like the image, and because unfortunately, the environmental hazards of off-shore drilling are just as relevant today as they were in 2010…especially with the relaxed regulations under the new administration. I enjoy doing illustrations of water with its hypnotic ripples and reflections. There's oil in this water, which mixes ok in an illustration, but not so well in real life. I want future generations to inhabit a livable planet.' – Shepard

Offset Lithograph on thick cream Speckle Tone paper, signed by Shepard Fairey.
Size: 24 x 36 inches.